In industrial IoT applications, Wireless sensors are of utmost importance to break away from conventional wiring method of acquiring data and to facilitate data collection in a remote area that is not easy to reach.
In this live session, we introduce one of the nonconvention way of connecting remote sensors using the Lora wireless transceiver where in this case it acts as a transparent wireless link between the iiot edge gateway and remote sensors. As Lora's frequency band is of 864 to 922.5Mhz, its penetration is much better than the 2.4Ghz / 5.8Ghz where with low power radio it is able to reach up to 1.5Km with a line of sight. For that, it is good enough to cover most of the in door or outdoor application with not so far distance away but with some obstruction. Example like your sensor is at the 3rd or 4th floor but your host IIoT gateway is at the ground floor, that can be stably achieved.
The only drawback of this type of transmission is that it is running on a lower speed where the maximum transmission rate is of 10Kbps. But, again for most of the IIoT sensor data is more than enough. 
The demo Setup for Lora wireless data collection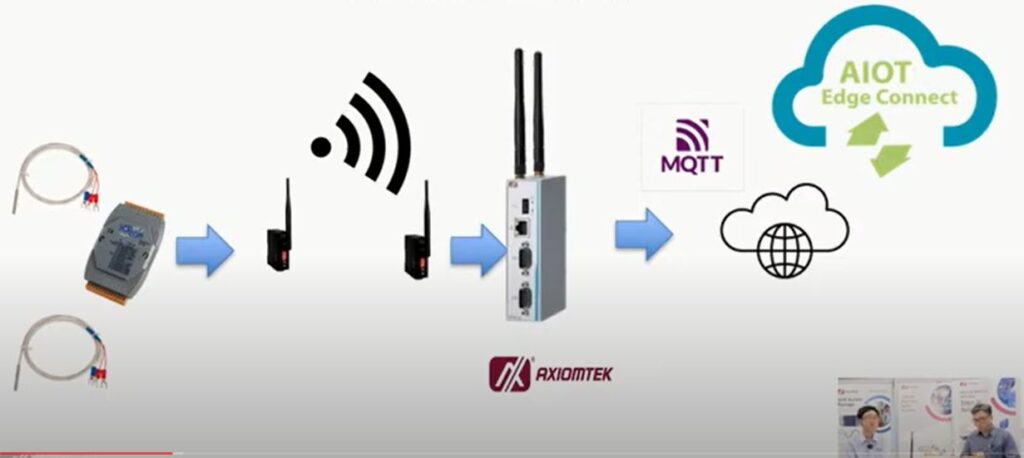 The Live demonstration with the above wireless topology was setup:-
1. RTD sensors + the RTD measurement module on Modbus + the Lora transceiver ( at the remote side) 
2. Axiomtek IIoT Edge gateway + Lora transceiver sitting as a local host connected to the interet and publishing data to the Cloud.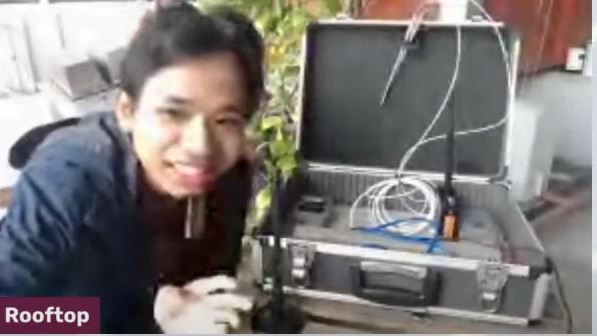 Our Application Engineer ( Amir) is at the remote side with the Temperature sensors. 
He varied the temperature by burning at the temperature probe.
Axiomtek IIoT Edge gateway hosting the data at the host area where the data is captured with the IIoT tool.
Picture showed 9869 is one of the value after being divided by 100 . it is at 98.69 Degree celcius. That is where the probe was burnt during that demo.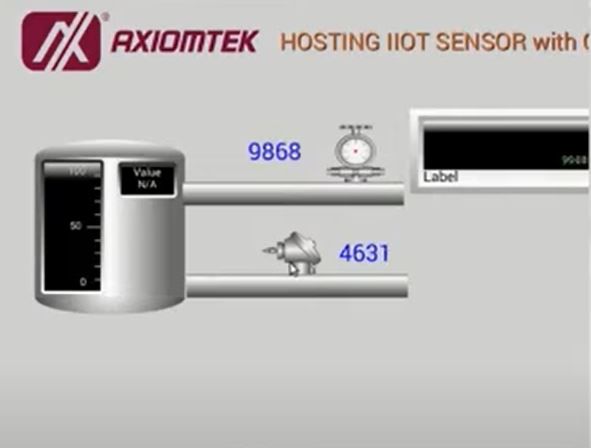 Free AIoT workshop (For fresh graduate )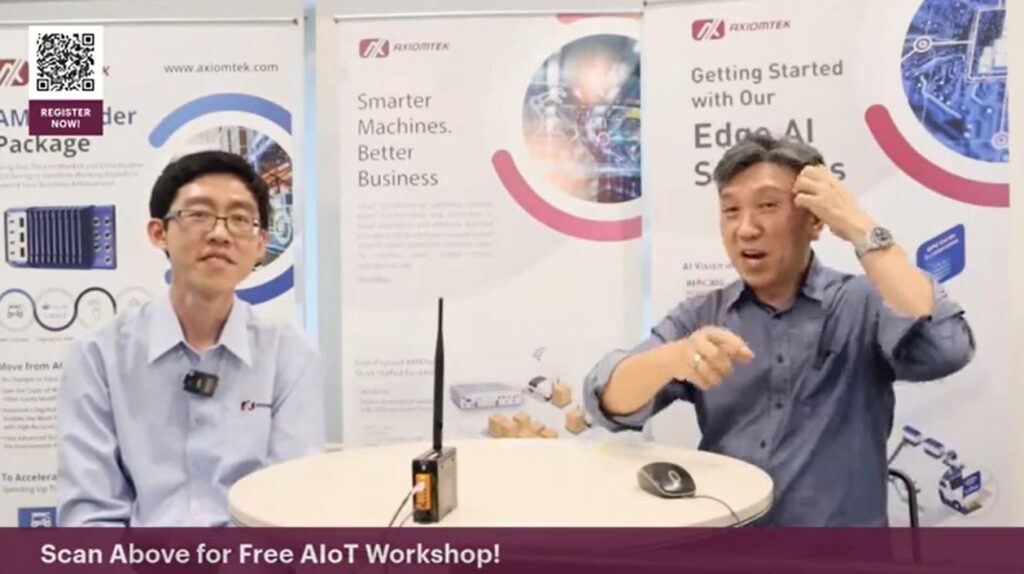 In line with the Malaysian government's talent development, AIoTmission Sdn Bhd  ( Axiomtek Malaysia training arm) thinks that this workshop can be an exciting Kickstarter in industrial AI and IoT where the participant can learn the industrial IoT application as well as how the Vision AI model is built. The main Aim of this AIoT workshop is to create better awareness of technology in the industry and if this understanding of the technology helps them to find a job that they want will be a great Bonus. 
Open from now till further announcement. 
Criteria for the free AIoT Workshop are as follows:- 
1. Must be of YouTube Subscriber
2. Those who are willing to learn more about AIoT in the industry. ( no specific background of studies)
3. Fresh Graduates that have not started for 3 months after graduation. 
Register yourself by scanning the QR code below:-

SCAN ME 
Free AIOT Workshop for Fresh Graduate in any discipline
( Half a day)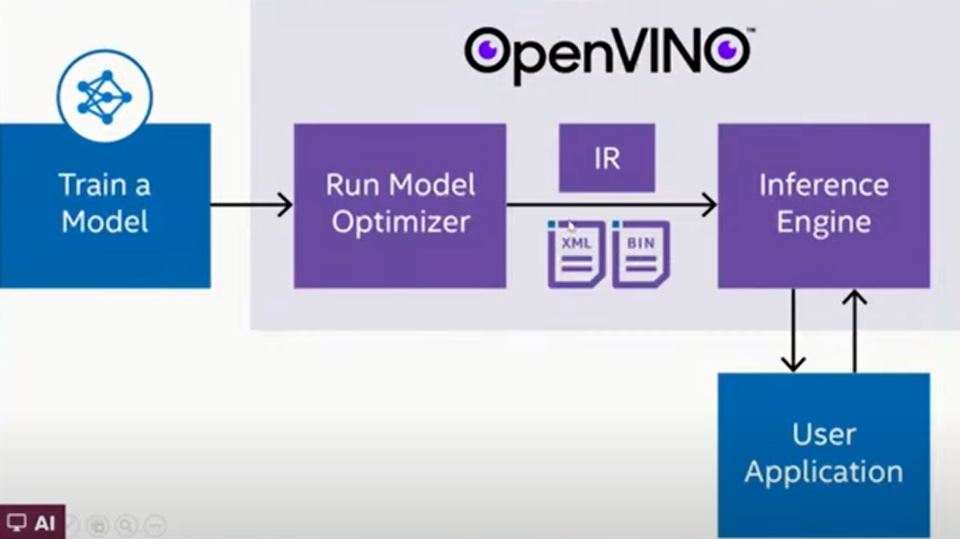 OpenVINO, short for Open Visual Inference and Neural Network Optimization, is an open-source toolkit developed by Intel for optimizing and deploying deep learning models on a variety of hardware platforms, including CPUs, GPUs, FPGAs (Field-Programmable Gate Arrays), and VPUs (Vision Processing Units). The primary goal of OpenVINO is to provide a unified framework that enables developers to accelerate and optimize their computer vision and deep learning applications for various Intel hardware platforms.
The process of building AI model was explained. you may start watching this in our youtube live channel at Sembang AIOT #22  at minutes 25 onwards.
AIOT  – The Connected Intelligence
 Watch us in YouTube channel  or follow us live with the link below:-