Introduction
The DL-1000 is a series of particle and gas measurement module that can measure the concentration of aerosols in the air, such as: PM2.5, PM1, PM10 and the number of particles (0.3μm, 0.5μm, 1μm, 2.5μm, 5μm, 10μm). In addition, various fume concentrations related to human health can also be measured. For example: CO/CO2/HCHO/NH3/H2S/TVOC DL-1000 can record data and send alarm when concentration is too high. It can be used to record PM1/2.5/10, CO, CO2, HCHO, TVOC, NH3, H2S, Temperature, Humidity and Dew Point information, including date and time stamps, and are able to store up to 160,000 downloadable records. Real-time data can be accessed from the DL-1000 series Data Logger from anywhere and at any time using the free Windows software, the iOS App or the Android App, as long as they are connected to the same local network as the Data Logger. Support is provided for popular industrial protocols such as DCON, Modbus RTU, and Modbus TCP, as well as the emerging machine-to-machine (M2M)/IoT (Internet of Things) connectivity protocol-MQTT. The DL-1000 series Data Logger can be connected via widely used communication interfaces including RS-485, Ethernet and PoE, meaning that the device can be easily integrated into existing HMI or SCADA systems, and is easy to be maintained in a distributed control system. The DL-1000 series is designed for industrial applications in harsh environments that provides IP43 grade protection approval. The rugged RJ-45 ensures tight, robust connections, and guarantees reliable operation, even for applications that are subject to high vibration and shock.
Multi-platform Remote Access Software
Real-time data from the DL-300 Data Logger can be accessed from anywhere and at any time using the iAir Utility, the iOS or Android App, or via a regular web browser, as long as they are connected to the same local network as the Data Logger.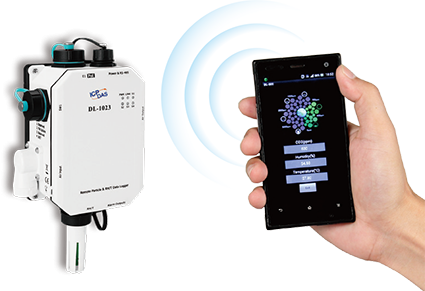 Supports the MQTT Protocol for IoT Applications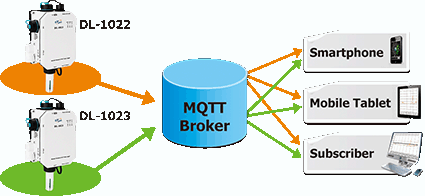 Simple and powerful utility
The iAir Utility can be used to configure the modules, monitor real-time data, group DL-1000 modules so that the status of distribution groups can be viewed and managed. The utility also allows the log data to be downloaded and exported to a .CSV file that can then be imported into any industry-standard software or spread sheet for analysis.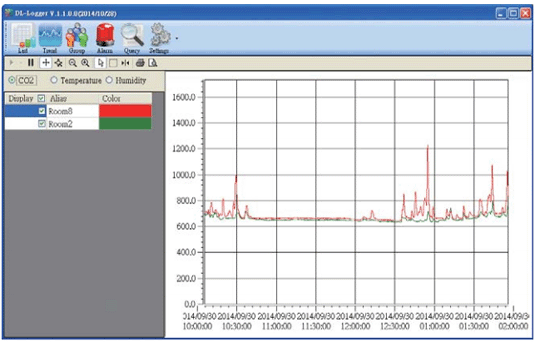 Replaceable Filter Patch (FLT-C001)
Generally, the PM2.5 measuring sensor on the market is usually installed in outdoor applications. Because the outdoor air is quite dusty, the measuring channel of PM2.5 sensor is easily clogged by aerosol, resulting in continued alarms for the heavy concentration. Due to the error data from the clogged sensor, this module is returned to the factory for repair. Downtime during the repair period often causes significant cost and losses. In order to solve this problem, ICP DAS design the CL-200 series and DL-1000 series with replaceable patch, FLT-C001, which makes it easy for users to replace them without uninstall the devices. Cost of repair and time can be reduced by this innovated mechanical design.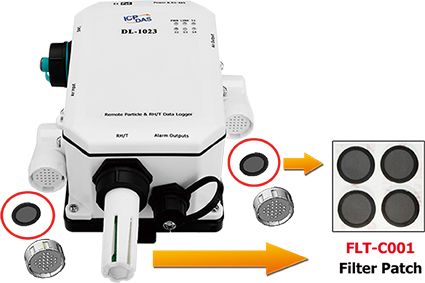 Applications
Intelligent Street Lighting in Smart City
In smart city applications, smart street lights integrate various communication technologies and are no longer illumination only. The high-density construction of streetlights have become one of the most important sources of government collecting road information in recent years. DL-1000 series products, with standard industrial communication protocol Modbus RTU/TCP, can integrate with smart streetlights to achieve outdoor air quality monitoring such as: O3, CO, CO2, SO2, NO2, TVOC, HCHO, and Particle Matter 1/2.5/10. Due to these aerosol could accumulate around the sensor and would cause error record after using for a period, DL-1000 support replaceable dust filter patch to easily change the patches inside the filter hood rather than uninstall the device.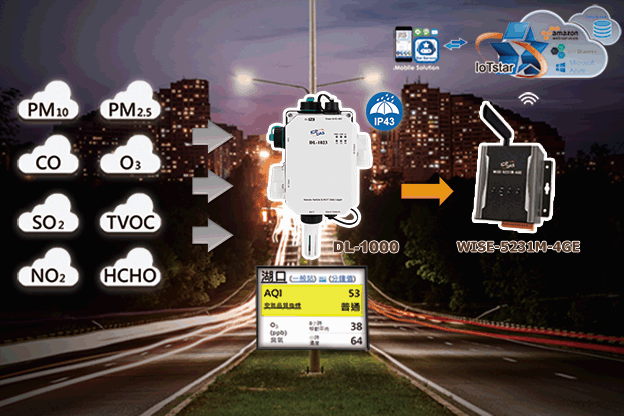 Outdoor Mobile Air Quality Detection Application
In developed countries, the Air Quality detection, statistics and evaluation is the most for improvement. In a vast area, it can only rely on the vehicle moving to record status of air quality, and to offline extract these and send back sorting out. ICP DAS DL-1000 series can integrate with our 3G/ 4G controllers to transmit data back to control center wirelessly.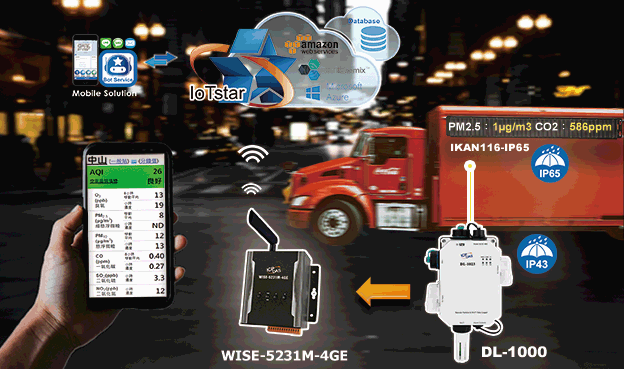 Factory Gas Detection Application
In some factories, H2S is one of the harmful gases. Due to the colorless and odorless are two characteristics quite hard to find or feel it, sometimes the workers inside the factory get injured inevitably. Joint liability from the injury brings the company a massive fines. DL-1026 H2S detector module can put in the spot. It equip with standard industrial protocols and with high flexible to integrate information from devices and transmit back to control center. When the concentration of gas is too high, DL-1026 can also send alarm signals to inform relative person to evacuate people there.